Red Letters Project Review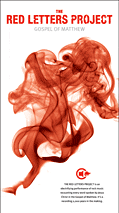 This is my first review of a Tyndale House Publishing Co. product and my very first review of an audio product. This product consists of a 3 CD set of select text of quotes of Christ from the book of Matthew, set to music. The product is very well packaged in an attractive pull-out sleeve containing the 3 CD set plus a booklet containing the New Language Translation of Matthew. The cover design is attractive, though a bit plain. The music is expertly arranged by Mario Canido who is also credited as one of the contributing musicians. The CD's are well produced with excellent musicianship and vocals, the genre being a cross-section of modern styles. I personally prefer the contemporary Christian music, but some of the other styles shine through at times. Someone with limited musical tastes may have a bit of trouble listening to the words of Jesus presented in these diverse methods. However, the Word of God will never return void. I feel this "Project" as the title aptly puts it, could be a dynamic method to reach many with open hearts and open ears to plant the Word of God.
I am linking up with
Literacy Musing Mondays
and
**Tyndale House Publishers has provided me with a complimentary copy of this book.